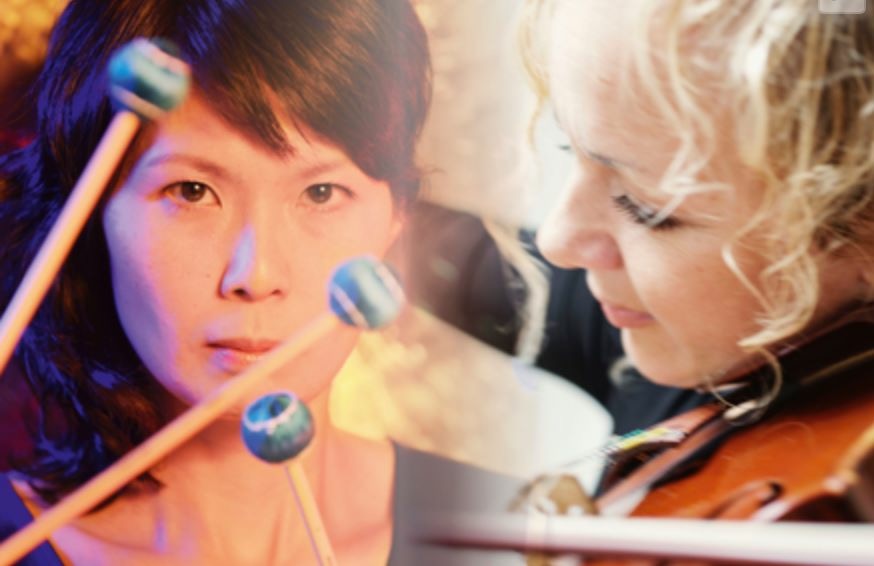 The two renowned  Stockholm based musicians, violinist Klara Hellgren and percussionist Mika Takehara , have formed a duo to create new sound worlds.
In 2015  they will celebrate Jean Sibelius by putting together their own tribute program with their own arrangements of his music together with contemporary Swedish music.
Klara Hellgren is one of Swedens foremost violinists, currently employed as a member in the Uppsala Chamber Soloists, a highly eminent string quintet where she plays both violin and viola, and as concertmaster in the Uppsala Chamber Orchestra.
Klara  regularly performs as a soloist, concertmaster and in various chamber music ensembles, delving into Baroque, Viennese, Classical, Romantic and new music.
Highlights of her solo career include performances with the Royal Philharmonic Orchestra, Gävle Symphony Orchestra and Uppsala Chamber Orchestra working with such conductors  as Hannu Koivula , Henrik Schaefer and Charles Hazelwood. In May 8th, 2014 , she gave a critically acclaimed performance of Nielsen's Violin Concerto with conductor Paul Mägi and  the Uppsala Chamber Orchestra. She has made numerous recordings for the Swedish Radio and discs with labels such as Daphne, Phono Suecia and Naxos "Swedish Society".
Klara plays on a Gragnani violin from 1773, kindly lent by the Swedish Järnåker Foundation.
Mika Takehara is one of the most interesting percussion and marimba soloists today with her ​​delicate musical style and dance like performances.  Since her debut as a soloist with the Kroumata ensemble in 1998 she has established herself with solo recitals and solo concerts around the world and with orchestras including the Berlin Philharmonic, the Royal Stockholm Philharmonic Orchestra, the Lucerne Symphony Orchestra and the Los Angels Philharmonic Orchestra. Mika has released several solo CDs  such as "Thirteen Drums" on BIS Record, "Glorious Percussion" by Sofia Gubaidulina with the Lucerne Symphony Orchestra and "The Baron in the Trees" by Britta Bystrom with the Västerås Sinfonietta. Mika is also a sought after teacher and teaches at the Royal Academy of Music in Stockholm, Kyoto University, at the Seiji Ozawa Orchestra Academy, Aberdeen University and gives master classes during her tours.
Contact and booking : www.violinduomarimba.se
Listen at Soundcloud: violin-duo-marimba